How our data analysis of TV streaming platforms gained over 170 backlinks from the likes of Business Insider, TechRadar, The Motley Fool, 9to5 Mac and created headlines in 19 different countries.
Client
Self Financial is a Texas-based fintech company, helping Americans build their credit with products that allow people to access finance who may not be able to otherwise.
The client has been working with Root for a number of years and continues to gain backlinks both in the personal finance niche, and in wider consumer press where it is important their brand can reach new potential customers and audiences. This includes younger audiences, who are particularly interested in, and focused on, finances and everyday costs.
As part of our ongoing digital PR activity with Self, we created an analysis of TV streaming services in the US to see which had the best 'bang for buck' and which offered the highest quality to viewers.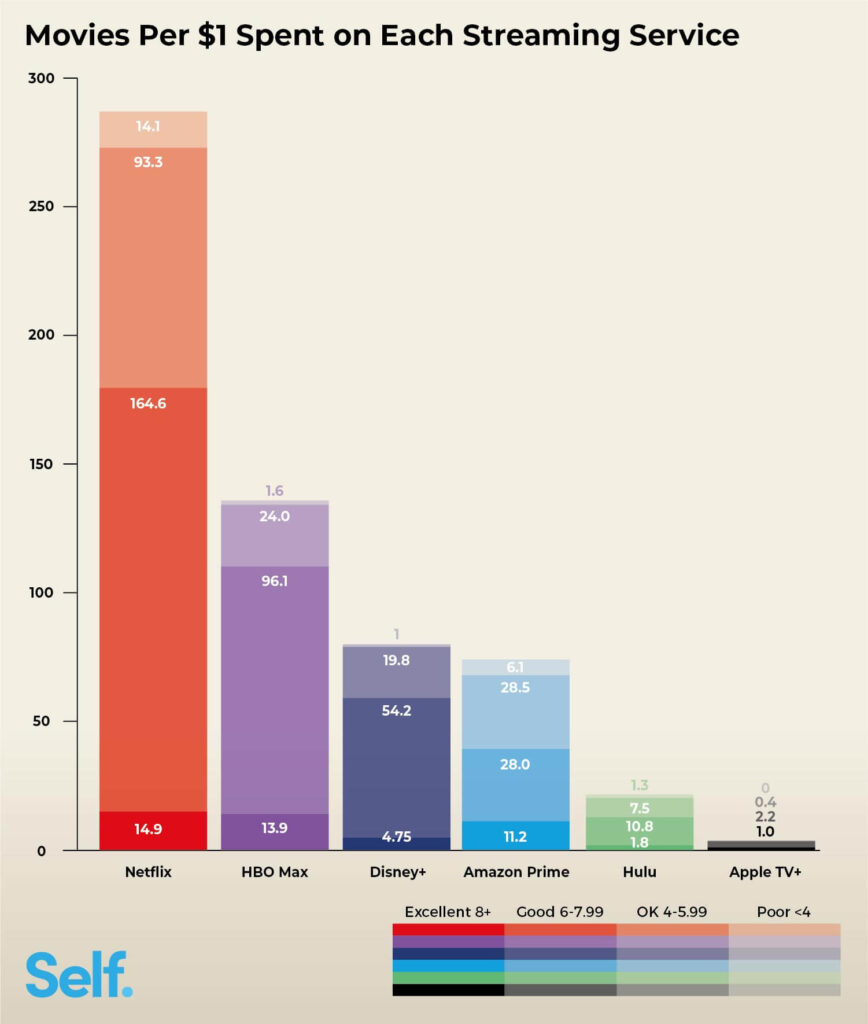 Strategy (2021)
In the ideation process we realised that there was a similar piece out there that looked at value of streaming, but did not go much deeper into the details than that. We knew from reviewing the data and opportunity in the press that there was a gap in analysing the data further, specifically in how family-friendly the content was, what the $K offering was, and which performed best in each genre.
We knew that we could create a piece of research that was as good as, if not better, than this. In addition, in the first year we launched the piece Disney+ had recently increased its price, and HBO Max was in the news cycle due to the release of Zack Snyder's Justice League, which created a lot of media attention. The time was right to analyse who was offering a better service in the streaming wars.
We always try to keep in mind 'building an octopus' whereby we ensure there are numerous angles to be discussed in a campaign. This allows us to tackle various niches for outreach. In this case, we knew we would be able to leverage each brand, their fandoms, and the personal finance angle present in the analysis.
Refreshing content strategy (2022)
In 2022, the cost of living crisis was pushing streaming into the spotlight once again with consumers having to make difficult decisions about their bills. The discussion of what streaming services offered the best bang for buck was hyper-relevant again, so we knew we needed to refresh the campaign.
This is a tactic we employ across clients who work with us year-on-year and is ultimately a great way to make use of an existing campaign for a better ROI. We already knew what data we needed, how to collect it, and what hooks we could use for outreach (plus this time we had journalists' writing to improve our outreach).
This meant we required less production resource in 2022 while still generating the same quality and quantity of results.
Data
One challenge we had producing this piece was that the data was not readily accessible from the streaming services themselves and other 3rd party aggregators were not willing to collaborate with their own datasets. As a side note, we often try to work with data partners where possible as it's a win-win: we get the data, they get free coverage from our PR work, in this case though, they didn't want to join forces.
We found a workaround and were able to scrape IMDb listings using Python and quickly analyse the data from there.
After that, we crunched the numbers, visualised the data, produced the report and got our outreach out asap to ensure the data didn't get cold anytime soon.
Results:
In 2021 the campaign earned links from 78 root domains, and in 2022, we had further success with links from 90+ root domains.
The study has now been covered in 19 countries: the U.S, Canada, Spain, France, Italy, Sweden, Poland, Iran, Portugal, India, Netherlands, Germany, China, Greece, Czech Republic, Slovakia, Brazil, Russia, and the U.K.
Backlinks from TechRadar, Android Authority, Business Insider, The Motley Fool, 9to5 Mac, BGR, Trusted Reviews, and Cheapism, to name a few.
The Streamable covered the data 3 separate times focusing on 3 different data-points in their coverage, a great example of our process of creative diversification.
The campaign allowed the client to access a key target audience for those interested in streaming services and money saving.
The study was featured prominently in a range of podcasts including those from Mac Observer and Daring Fireball.
From April 2021 – September 2022, the page has had almost 36,000 pageviews, with periods of organically ranking on page 1 for the keyword 'best streaming service' (absolutely not a KPI of this link building campaign).