How we generated over 590 backlinks on unique linking domains from sites like The Guardian and The Conversation with no on-going outreach and improved organic traffic over 1,000%
Client
Social Films, a London based video production agency, work with global brands of all sizes to produce video content that drives views.
The client is in a competitive market among many larger businesses globally and in their home market, the UK. Root Digital was tasked with building the website's ability to drive organic traffic and leads. After initially working on helping the website migrate platforms, reconstruct the design, and create an on-going content strategy including new and improved key landing pages, we continued our digital PR and link building efforts to boost external factors and the domain's authority.
We had a huge amount of initial success through the back-end of 2019, launching a newsjacking campaign with minimal time that amassed 44 pieces of coverage including IGN, Yahoo! and the Observer, before looking to kick on into 2020.
Within the 2020 plan was a small creative campaign that needed to have a focus on video marketing in order to build links and brand features in relevant publications.
Strategy
We knew that the social media app, TikTok, was growing every day, with the 2020 pandemic pushing it's expansion further and journalists were hungry for reputable content relating to the app. Through a content and keyword analysis, we discovered that there was a gap in the market for UK-specific statistics on the popular platform with search volume.
At the time of discovery, all ranking URLs in the UK for 'TikTok Statistics' were globally focused, providing statistics for global usage and even slightly more focused on the US and China. These ranking websites, such as Oberlo and BusinessofApps had achieved 225 and 1.1k LRDs respectively, with their link profiles heavily pointing towards the pieces being used as reference points and sources for writers.
However, we could see search volume was appearing for UK specific searchers too, but the content being delivered wasn't quite matching what people were looking for.

Seeing the opportunity, we researched and produced the content looking into a range of data points that we knew journalists were already covering but making them UK specific. We ensured the content was up-to-date and backed up by relevant sources, even undertaking some of our own bespoke research on the app's engagement numbers. In addition to copywriting and research, we visualized some key statistics to ensure the report was as engaging as possible and to offer journalists further assets.
Upon production completion, we did an initial period of soft outreach targeting key journalists already writing about TikTok to make them aware of our statistics. We received various pieces of feedback stating how useful it was, with journalists highlighting the frustration they faced trying to find data exactly like this. We knew we'd tapped into something here.
Due to the nature of this piece and the content quality, it did not require much outreach as it ranked well organically for the desired keywords. Ultimately, it continues to gain 90% of its pickup without any direct outreach as we crafted the right content at the right time.

Results
Over 150 unique linking domains achieved as of March 2021, with new sites linking every month
Backlinks from The Guardian, Vice, The Conversation, The Next Web, Gizmodo, Cosmopolitan, Yahoo, Business Matters, Metro, IT PRO, and a range of relevant marketing publications and blogs
First three months, it generated an average of 25 backlinks organically (with no outreach) per month
Ranks consistently #1 for 'TikTok statistics UK' and other more niche keywords relating to certain statistics
Long-term ROI – a powerful evergreen link building asset for the business which continues to build links a year later with no on-going outreach time
Organic clicks to the site increased 1,022% (one comma club!) and impressions up 258% in just 6 months.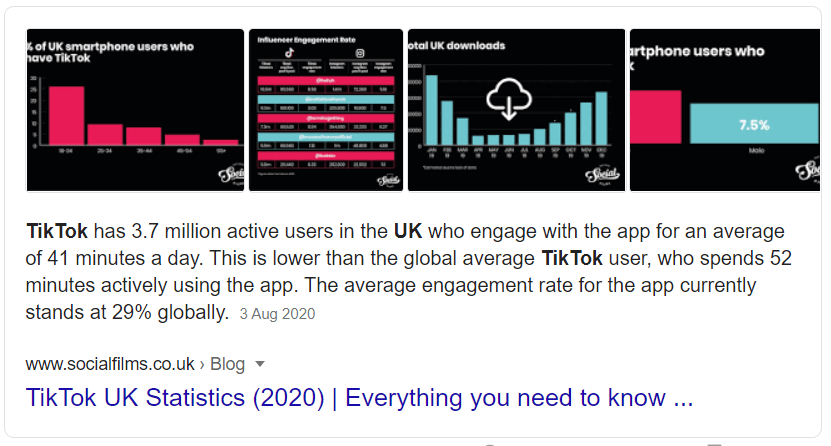 The best link building campaigns are the ones that continue to build links long after the initial period of work. Analysing the news landscape to find trending topics and then creating the content that is needed is the key to evergreen link building campaigns.